When you spend the better part of a year with the same guys every year, you're bound to make friendships. Hockey is no exception to that. The NHL has spawned some of the greatest friendships ever. There's Messier and Gretzky, Kane and Toews, Selanne and Kariya, the list goes on and on. In this article, I'll look at my top 5 NHL bromances from all-time.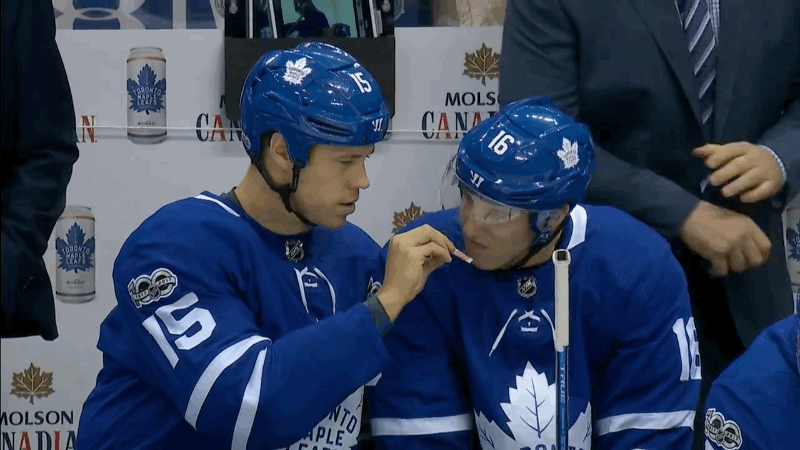 Marner and Martin are a bromance like no other. The two have become great friends during their time on the Leafs and have created some great memories in just a few years. Mitch and Matt have been spotted at dinner together and even took Christmas photos together. On road trips, the two spend their time catching movies together and have created their best public moment when they share smelling salts and handshake earlier this season.
Paul and Teemu are one of the more odd couples on this list but definitely deserve their spot. The two were friends from the start in Anaheim, tearing it up with some magnificent plays feeding off of each other. They even had a stint together for the Colorado Avalanche before being separated for good. This bromance was forever enshrined in history when they were both inducted to the Hockey Hall of Fame this season.
Another high scoring, high octane duo makes the list with Mario and Jaromir. Winning back-to-back Stanley Cups together and scoring some beautiful goals together. The two played together for 7 seasons with the Pittsburgh Penguins and accrued an insane amount of awards and accolades during their tenure in the NHL. Two of the most iconic penguins of all time and a no-brainer for this list.
Luongo and Lack made one of the most memorable bromances when together with the Canucks. The two were inseparable and even when they were separated, Lack made sure everyone knew how special Bobby Lu was to him by having his face painted on the back. Lu and Lack made quite the duo after Lu's last bromance ended when Cory Schneider was traded to the Devils. Luongo and Lack's tenure together didn't last as long as some of the others on this list but definitely combine to be the best Twitter duo in hockey.
Moose and the Great One definitely combine to be the most successful bromance on the list. Combining for 6 Stanley Cups, 38 All-Star Game appearances, and 4,744 points during their careers, the two were unstoppable during their careers. We haven't even mentioned the incredible amount of records and awards these guys have combined for. Gretz and Messier's friendship is what brought Gretzky to the Rangers. The chance for the two to play together again was more important than any amount of money for Gretzky and lead to more great memories between the two. I apologize to Brent Gretzky for not putting him with his big brother on this list even though they're the highest scoring siblings to ever play in the NHL.
Honorable Mentions:
What's your favorite NHL bromance, past or present?
Tweet
us with your favorite dynamic duos from the NHL and let us know your thoughts!